THORNTON CREEK ELEMENTARY PTA

46180 Nine Mile Road, Novi, MI 48374                                248 465-2350 

Gator Gala - Carnival for all Thornton Creek Families!

© 2013 Thornton Creek PTA

Affiliated with Northville Public Schools (NPS). NPS does not exercise control over the content found on this site. Links to external websites and servers do not imply any official NPS endorsement of the opinions or ideas expressed therein, or guarantee the validity of the information you may find at these sites. Links to commercial sites are in no way an endorsement of any vendor's products or services. 

​Friday, November 3, 2017    5:30-8:30pm    

An Evening of Games - Prizes - Food - and Fun!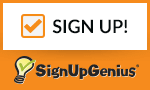 There are plenty of opportunities to volunteer to help with Gator Gala, as this event would not be a success without the help of all our Thornton Creek Families.

Please sign-up for a 1/2 hour for each child you have at Thornton Creek. Volunteers are needed in for games in classrooms as well as many other areas.  

Gator Cafe:  

- Check out the delicious menu items in the Gator Cafe - Open for business at 5:30pm.

Gator Gala Games and Crafts: 

- Earn Gator Bucks and small prizes by playing games in classrooms.

- Enjoy our bounce house and jousting in the gym. 

- Games and crafts begin at 6:00pm.

- For 5th graders and younger ONLY and REQUIRES a WRISTBAND to participate!

Silent Auction:

- Be sure to check out the wonderful Silent Auction items on the stage in the Cafeteria.

- We appreciate the support of our families and local businesses for their donations!

Raffle Items:

- Be sure to purchase raffle tickets to enter into the drawings for the many fun raffle items!